At Cameo Salon, we provide great hair in a relaxed environment.
Cameo is a charming and comfortable space to enjoy getting your hair done. We want you to feel as at home as we do. Sit and relax and enjoy your time with us while we take care of you! Our team consists of talented stylists with years of experience, providing beautiful color and great haircuts.
We are a collective of independent stylists. We often keep our own hours, specialize in different areas and our pricing may vary. This gives us a better opportunity to cater to our clients. It also means that the best way to book an appointment is to contact one of us directly. Contact information is located with each stylist's bio. Feel free to text, email or book directly online.
Jennifer Kelley, Owner + Stylist
Book an appointment with Jennifer:
Jennifer@cameoatlanta.com
(404) 808-4974
Haircuts: $75 Women's / $75 Men's
Color: $115 and up
Jennifer Kelley is the owner of Cameo Salon. She has a passion for perfecting multi-dimensional color and tailoring haircuts to suit face-shape and lifestyle. A veteran stylist with over 14 years of experience in the beauty industry, she utilizes her talents to bring out the best in her clients. Throughout her career, Jennifer has devoted herself to continuing education and fine-tuning her skills through many advanced level cutting and coloring classes from companies such as Redken, Kerastase, Bumble and Bumble, R+Co and The Kingley Hairgroup. This education allows her to stay at the forefront of hairdressing and keeps her devoted clientele looking fresh. Outside of the salon, Jennifer enjoys spending time exploring the world with her husband and three young children.
Cameron Harris
cameron@cameoatlanta.com
(651) 274-5647
Haircuts: $70 Women's / $50 Men's
Color: $100 and up
Cameron was inspired to become a hairstylist back when a little TV show called "Blow Out" was airing on Bravo. He admired the show's star for his appreciation of a great blowdry, coupled with his passion for doing fabulous hair. He was a true inspiration, and in the summer of 2007, Cameron left a long career in corporate America to pursue a new adventure in the hair industry. He's never looked back.
Originally from St. Paul, MN, Cameron was fortunately positioned near the original Aveda Institute in Minneapolis, where he earned his cosmetology degree in 2008. He planted new roots (no pun intended) in Atlanta that year to begin his career at Van Michael Salon. After six years and growing a large clientele, he moved to Adore Hair Studio in Decatur to be closer to home. After spending five years with Adore, he decided to keep things fresh, and move to the newly-opened Cameo Salon. Cameron has 12 years experience as a color specialist and continues to fine-tune his cutting skills, and is a master of the keratin treatment. With his perfectionism, attentive listening skills, and an eye for beauty, he's always excited to work with new clients.
While not at the salon, Cameron enjoys spending time at home with his husband, two dogs, and two cats. Hobbies include running and fitness, cooking, traveling, movies and TV, and hanging out with friends.
Katie Malone
(470) 230-8031
katie@cameoatlanta.com
Haircuts: $65 Women's / $45 Men's
Color: $85 and up
Katie is a versatile hairstylist that enjoys cutting, coloring and styling. She is a 2014 graduate of the Toni and Guy Hairdressing academy and has continued to grow her skills as a stylist by attending continuing education classes from top industry professionals. Katie is passionate about her career as a hairstylist and she enjoys helping everyone that sits in her chair feel beautiful, inside and out! She is experienced with all hair types but especially loves a good balayage.
Katie is a Georgia native, born and raised in Marietta. In her free time, she can be found enjoying a birthday cake-flavored doughnut with her daughter, binge-watching The Office or working out!
Lindsey Maxfield
(770) 862-5906
lindsey@cameoatlanta.com
Haircuts: $60 Women's / $60 Men's / Kid's $40
Color: $70 and up
Lindsey is in love with hair! Becoming a hairstylist is a lifelong dream that she was able to pursue after achieving a bachelor's degree in sociology and spending many years in a corporate job. Her creativity and love of hair fuel her dedication to hairdressing. Lindsey has a gentle ease behind the chair and enjoys working with all types of hair textures and styles. She delights in helping clients decide on a fresh style and is skilled at creating looks that maintain beauty over time. Lindsey emphasizes keeping up with the latest industry techniques and continues to grow with her passion by attending education classes by respected educators over her 5 years as a hairdresser. When spending time outside of the salon, Lindsey can be found creating amazing balloon sculptures for celebrations and working on her yard and home projects. She is the mother of a sweet 2-year-old little dude.
Alex Duckworth
(678) 471-6314
alex@cameoatlanta.com
Haircuts: $55 Women's / $48 Men's / Kid's $40
Color: $65 and up
Alex is an Atlanta native who has been in the hair industry since 2016. She has an affinity for cutting and styling many different hair types, including textured and curly hair, balayage and highlighting, creative coloring and cutting, and giving you that perfect blowout. She enjoys making people happy in their own skin and loves getting to know every one of all hair textures, genders, ages, or cultural backgrounds. Alex is a graduate of Paul Mitchell the School Atlanta and began her career at Bob Steele Salon. She has also owned a small salon along her path as a stylist, always aspiring to grow and evolve. Alex is focused on furthering her education and is constantly learning new techniques from brands like Redken and Mizani. She believes in consistently bettering herself as an artist and as a person. When she's not at the salon, you can find her being a mom to her new baby girl and her three fur children. Forever a creative soul; she enjoys cooking yummy vegan meals and working on drawings and paintings, making natural hair and skincare products, and exercising outside.
Devan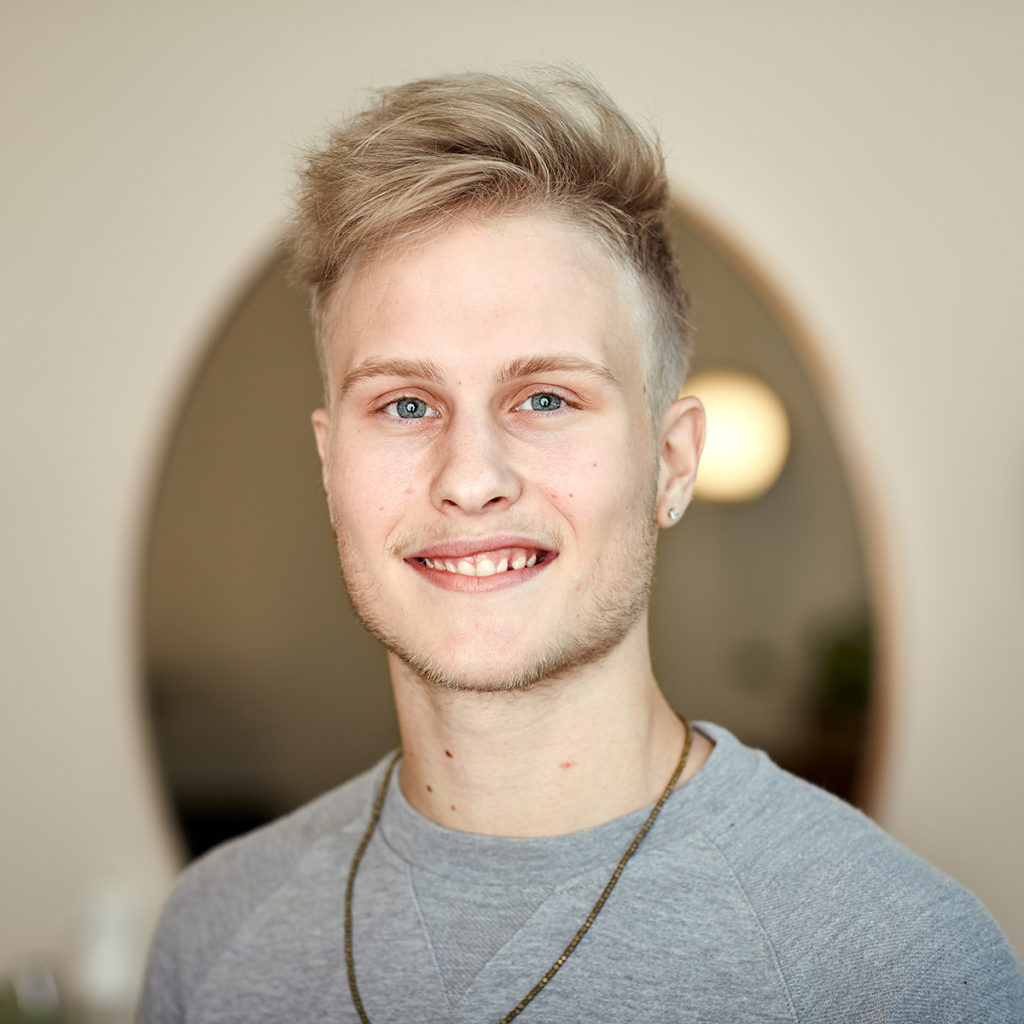 Book an appointment with Devan:
(404) 271-6597
devan.dauphin10@gmail.com
Assistant + Apprentice
Devan is our assistant extraordinaire and apprentice. Devan keeps the salon running smoothly on the daily by folding hundreds of towels and keeping the salon tidy. After years of experience at Cameo, he is now learning to become a stylist in our apprentice program. He's available for blowdrys on evenings and weekends.